Antídotos contra la intoxicación por insecticidas organofosforados
Antonio Monroy

Es Profesor-Investigador Titular B de la UAEM, adscrito a la Facultad de Farmacia.
Resumen
Es sabido que el uso de compuestos utilizados como plaguicidas produce intoxicación en el cuerpo humano. En este artículo se proporcionan las cifras oficiales de su uso y las de  envenenamiento y muerte por intoxicación a causa de éstos.Asimismo se menciona cómo dichos compuestos son degradados y desechados por el metabolismo y los efectos neurotóxicos que los insecticidas provocan tanto en personas como en animales.  Aunque las intoxicaciones pueden ser diagnosticadas y tratadas, es necesario desarrollar nuevos tratamientos farmacológicos para reducir la tasa de mortalidad. En la UAEM se están realizando investigaciones acerca de estos compuestos, al mismo tiempo que se desarrollan técnicas que permitan la degradación de insecticidas, como la utilización de proteínas. 
Citas
Lester G. Sultatos, "Mammalian toxicology of organophosphorus pesticides", en Journal of Toxicology and Environmental Health, núm. 3, vol. 43, 1994, pp. 271-289.
Catálogo de plaguicidas, Cicoplafest/Ssa/Sagarpa/Semarnat/SE, México DF, 2004.
Arturo Cristán Frías, Claudia Rodríguez Tapia, Rocío Alatorre Eden-Wynter, Olga Lydia Loredo, José Castro Díaz, Jesús López Olvera, Características de peligrosidad ambiental de plaguicidas. Riesgos químicos ambientales, INE/Semarnap, México DF, 2000.
Lucio G. Costa, "Current issues in organophosphate toxicology", en Clinica Chimica Acta, núms. 1-2, vol. 366, 2006, pp. 1-13.
Josef G. Thundryil, Judy Stober, Nida Besbelli y Jenny Pronczuk, "Acute pesticide poisoning: a proposed classification tool", en Bulletin of the World Health Organization, núm. 3, vol. 86, marzo de 2008, pp. 161-240, en Wolrd Health Organization, http://www.who.int/bulletin/volumes/86/3/07-041814/en/, consultado en junio de 2010.
The World Health Report – Shaping the Future, World Health Organization, Ginebra, 2003.
Michael Eddleston, S. Singh, Nick A. Buckley, "Acute organophosphorus poisoning", en Clinical Evidence, núm. 7, 2002, pp. 1436-1446.
Milan Jokanovic, "Biotransformation of organophosphorus compounds", en Toxicology, núm. 3, vol. 166, 2001, pp. 139-160.
"Metabolism and mode of action", en Organophosphorus Insecticides: A General Introduction, World Health Organization, Ginebra, 1986, pp. 39-48.
Lourdes Rodrigo, Antonio F. Hernández, José J. López Caballero, Fernando Gil y Antonio Pla, "Immunohistochemical evidence for the expression and induction of paraoxonase in rat liver, kidney, lung and brain tissue. Implications for its physiological role", en Chemico-Biological Interactions, núm. 2, vol. 137, 2001, pp. 123-137.
Lucio G. Costa, Rebecca J. Richter, Wan-Fen Li, Toby Cole, Mariana Guizzetti y Clement E. Furlong, "Paraoxonase (PON1) as a biomarker of susceptibility for organophosphate toxicity", en Biomarkers, núm.1, vol. 8, 2003, pp. 1-12.
Frank M. Raushel, "Bacterial detoxification of organophosphate nerve agents", en Current Opinion in Microbiology, núm. 3, vol. 5, 2002, pp. 288-295.
M. K. Johnson, "The delayed neurotoxic effect of some organophosphorus compounds. Identification of the phosphorylation site as an esterase", en Biochemical Journal, vol. 114, 1969, pp. 711-717.
Miguel A. Sogorb, Eugenio Vilanova y Victoria Carrera, "Future applications of phosphotriesterases in the prophylaxis and treatment of organophosporus insecticide and nerve agent poisonings", en Toxicology letters, núm. 1, vol. 151, 2004, pp. 219-233.
J. Barril y M. V. Carrera, "Polineuropatía retardada inducida por organofosforados: una gran desconocida", en Medicina Clínica, vol. 92, 1989, pp. 787-793.
Jerrold B. Leikin, Richard G. Thomas, Frank G. Walter, Raymond Klein y Harvey W. Meislin, "A review of nerve agent exposure for the critical care physician", en Critical Care Medicine, núm. 10, vol. 30, 2002, pp. 2346-2354.
Tetsuo Satoh, "Release of liver microsomal ß-glucuronidase from hepatocytes in vitro and in vivo by organophospha¬tes and hepatotoxic agents", en The Journal of Toxicological Sciences, vol. 16 (suppl. 1), 1991, pp. 133-142.
Tetsuo Satoh y Masakiyo Hosokawa, "Organophosphates and their impact on the global environment", en Neurotoxi¬cology, núms. 1-2, vol. 21, 2000, pp. 223-227.
Michael Eddleston, Lakshman Karalliedde, Nick Buckley, Ravindra Fernando, Gerard Hutchinson, Geoff Isbister, Flemming Konradsen, Douglas Murray, Juan Carlos Piola, Nimal Senanayake, Rezvi Sheriff, Surjit Singh, S. B. Siwach y Lidwien Smit, "Pesticide poisoning in the developing world—a minimum pesticides list", en The Lancet, núm. 9340, vol. 360, 2002, pp. 1163-1167.
Murat Sungur y Muhammed Güven, "Intensive care management of organophosphate insecticide poisoning", en Critical Care Forum, núm. 4, vol. 5, 2001, pp. 211-215.
Martin K. Johnson, Dag Jacobsen, Tim J. Meredith, Peter Eyer, Andrew J. Heath, David A. Ligtenstein, Tim C. Marrs, Ladislaus Szinicz, J. Allister Vale y John A. Haines, "Evaluation of antidotes for poisoning by organophosphorus pesticides", en Emergency Medicine, núm. 1, vol. 12, 2000, pp. 22-37.
Diana M. Shih, Lingjie Gu, Yu-Rong Xia, Mohamad Navab, Wan-Fen Li, Susan Hama, Lawrence W. Castellani, Clement E. Furlong, Lucio G. Costa, Alan M. Fogelman y Aldons J. Lusis, "Mice lacking serum paraoxonase aresusceptible to organophosphate toxicity and atherosclerosis", en Nature, núm. 6690, vol. 394, 1998, pp. 284-287.
Kai Tuovinen, Eila Kaliste-Korhonen, Frank M. Raushel y Osmo Hänninen, "Eptastigmine-phosphotriesterase combination in DFP intoxication", en Toxicology and Applied Pharmacology, núm. 2, vol. 140, 1996, pp. 364-369.
Freda Valeria Campos González, Hidrólisis de O-hexil diclorofenilfosforamidato en el suero de aves domésticas en presencia de Cu2+ y Zn2+, tesis de maestría, UAEM, Cuernavaca, 2008.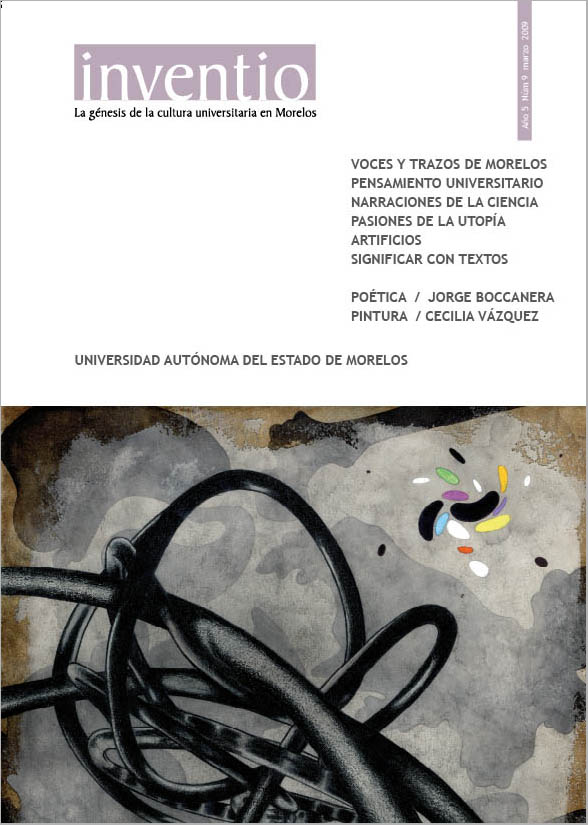 Sección
Narraciones de la ciencia
Aquellos autores/as que tengan publicaciones con esta revista, aceptan los términos siguientes:
Los autores/as conservarán sus derechos de autor y garantizarán a la revista el derecho de primera publicación de su obra, el cuál estará simultáneamente sujeto a la Licencia de reconocimiento de Creative Commons que permite a terceros compartir la obra siempre que se indique su autor y su primera publicación esta revista.
Los autores/as podrán adoptar otros acuerdos de licencia no exclusiva de distribución de la versión de la obra publicada (p. ej.: depositarla en un archivo telemático institucional o publicarla en un volumen monográfico) siempre que se indique la publicación inicial en esta revista.
Se permite y recomienda a los autores/as difundir su obra a través de Internet (p. ej.: en archivos telemáticos institucionales o en su página web), lo cual puede producir intercambios interesantes y aumentar las citas de la obra publicada. (Véase El efecto del acceso abierto).