Riesgos por consumo de medicamentos con frutas y verduras
Resumen
En este texto se aborda la problemática de consumir medicamentos y alimentos simultáneamente, principalmente frutas y verduras, las cuales pueden llegar a afectar la forma en que el cuerpo humano absorbe el medicamento. A partir de ello se explica el tipo de alimentos y enzimas que metabolizan fármacos, es decir que afectan en la transportación y absorción de éstos. En la actualidad con tantas enfermedades, se toman varios medicamentos de forma regular, al consumirlos junto con algunas frutas o verduras como la toronja, se corre el riego de disminuir la eficacia del medicamento, por lo que se deben intensificar los esfuerzos para esclarecer los riesgos de consumo.
Citas
Adolf Nahrstedt y Veronika Butterweck, "Lessons learned from herbal medicinal products: the example of St. John's Wort (perpendicular)", Journal of Natural Products, vol. 28, 2010, pp. 1015-1021.
Ah-Ng Tony Kong, "Induction of phase I, II and III drug metabolism/transport by xenobiotics", Archives of Pharmacological Research, vol. 28, 2005, pp. 249-268.
Ana I. Álvarez, Rebeca Real, Miriam Pérez, Gracia Mendoza, Julio G. Prieto y Gracia Merino, "Modulation of the activity of ABC transporters (P-glycoprotein, MRP2, BCRP) by flavonoids and drug response", Pharmacological Science, vol. 99, 2010, pp. 598-617.
Bill Gurley, Kim Fifer y Zechariah Gardner, "Pharmacological herb-drug interactions (part 2): drug interactions involving popular botamical dietary supplements and their clinical relevance", Planta Medica, vol. 78, 2012, pp. 1490-1514.
Brahma Singh y Bimal Malhotra, "Effects of food on the clinical pharmacokinetics of anticancer agents: underlying mechanisms and implications for oral chemotherapy", Clinical Pharmacokinetics, vol. 43, 2004, pp. 1127-1156.
Brian Tomlinson, Miao Hu y Vivian Lee, "In vivo assessment of herb-drug interactions: possible utility of a pharmacogenetic approach?", Molecular Nutrition Food Research, vol. 52, 2008, pp. 799-809.
Diet, nutrition, and the prevalence of chronic diseases, WHO (Technical Report Series 916), Ginebra, 2003.
Dieter Genser, "Food and drug interaction: consequences for the nutrition/health status", Annual Nutrition of Metabolism, vol. 52, 2008, pp. 29-32.
Inge Walter-Sack y Ulrich Klotz, "Influence of diet and nutritional status on drug metabolism", Clinical Pharmacokinetics, vol. 31, 1996, pp. 47-64.
Janina Maria Sorensen, "Herb-drug, food-drug, nutrient-drug and drug-drug interactions: mechanisms involved and their medical implications", Journal of Alternative and Complementary Medicine, vol. 8, 2004, pp. 293-308.
John Milner, "Molecular targets for bioactive food components", Journal of Nutrition, vol. 134, 2004, pp. 2492s-2498s.
Jordi Muntané, "Regulation of drug metabolism and transporters", Current Drug Metabolism, vol. 10, 2009, pp. 932-995.
Lei Zhang, Yang De Zhang, John M. Strong, Karen Reynolds y Shiew Mei Huang, "A regulatory viewpoint on transporter based drug interactions", Xenobiotica, vol. 38, 2008, pp. 709-724.
Lourdes Rodríguez-Fragoso, José Luis Martínez-Arismendi, Danae Orozco-Bustos, Jorge Reyes-Esparza, Eliseo Torres y Scott W. Burchiel, "Potential risks resulting from fruit/vegetable-drug interactions: effects on drug metabolizing enzymes and drug transporters", Journal Food Science, vol. 76, 2011, pp. R112-R124.
M. J. Hanley, P. Cancalon, W. W. Widmer y D. J. Greenblatt, "The effect of grapefruit juice on drug disposition", Expert Opinion on Drug Metabolism Toxicology, vol. 7, 2011, pp. 267-286.
P. A. de Smet, "Herbal remedies", New England Journal of Medicine, vol. 347, 2002, pp. 2046–2056.
Peng Li, Guang Ji Wang, Thomas Robertson y Michael Robert, "Liver transporters in hepatic drug disposition: an update", Current Drug Metabolism, vol. 10, 2009, pp. 482-498.
Rui Hai Liu, "Health benefits of fruit and vegetables are from additive and synergistic combinations of phytochemicals", American Journal of Clinical Nutrition, vol. 78, 2003, pp. 517S-5120S.
Rui Hai Liu, "Potential synergy of phytochemicals in cancer prevention: mechanism of action", Journal of Nutrition, vol. 134, 2004, pp. 3479S-3485S.
Robert Foti, Larry Wienkers y Jan Wahlstrom, "Application of cytochrome P450 drug interaction screening in drug discovery", Combinatorial Chemistry High Throughput Screening, vol. 13, 2010, pp. 145-158.
Sandhya Mandlekar, Jin-Liem Hong y Ah-Ng Tony Kong, "Modulation of metabolic enzymes by dietary phytochemicals: a review of mechanisms underlying beneficial versus unfavorable effects", Current Drug Metabolism, vol. 7, 2006, pp. 661-675.
Silvana Lawvere y Martin Mahoney, "St. John Wort", American Family Physician, vol. 72, 2005, pp. 2249-2254.
Slobodan Rendic, "Summary of information on human CYP enzymes: human P450 metabolism data", Drug Metabolism Review, vol. 34, 2002, pp. 83-448.
Thomas Rushmore y Tony Kong, "Pharmacogenomics, regulation and signaling pathways of phase I and II drug metabolizing enzymes", Current Drug Metabolism, vol. 3, 2002, pp. 481-490.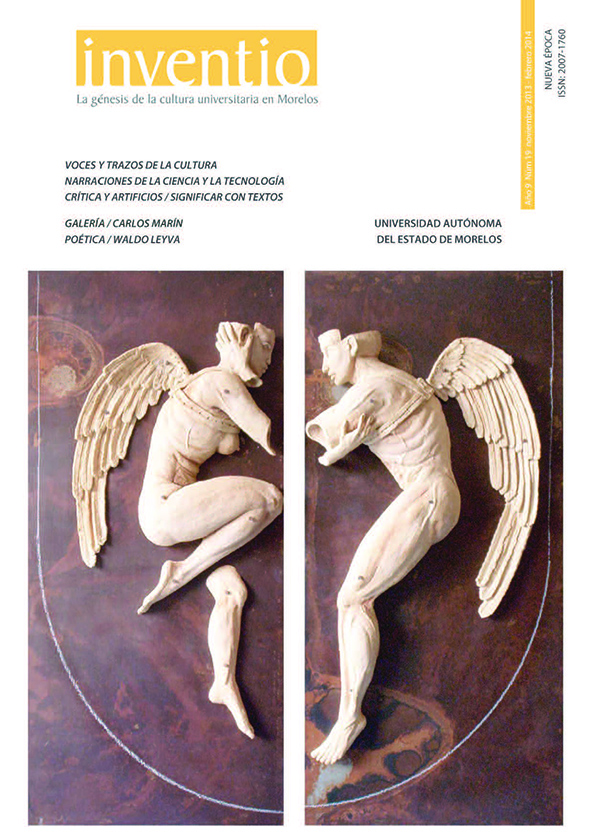 Descargas
Cómo citar
Rodríguez-Fragoso, L. . (2021). Riesgos por consumo de medicamentos con frutas y verduras. Inventio, 9(19), 37–45. Recuperado a partir de http://inventio.uaem.mx/index.php/inventio/article/view/340
Sección
Narraciones de ciencia y tecnología
Licencia
Esta obra está bajo una licencia internacional Creative Commons Atribución-NoComercial 4.0.
Esta revista proporciona acceso abierto inmediato a su contenido, con base en el principio de ofrecer al público un acceso libre a las investigaciones para contribuir a un mayor intercambio global de conocimientos. Se distribuye bajo una licencia Creative Commons Reconocimiento-NoComercial 4.0 Internacional License.